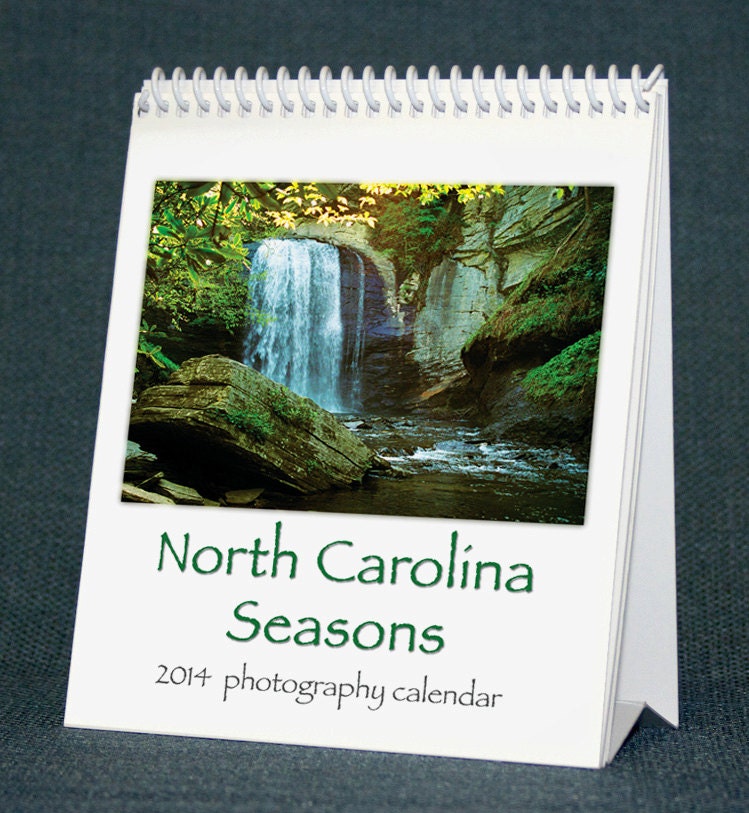 NC Seasons 2014 Desk Calendar
by Orange Cat Art
Happy New Year, Triangle! Hope everyone enjoyed the holidays and is ready to start a fantastic 2014! If you're recovering from a busy holiday season, First Friday is a great opportunity to come out and enjoy some of the great restaurants, studios and galleries in downtown Raleigh. Come recharge your creative batteries with us!
Friday, January 3
First Friday - Raleigh
Join us for a fun-filled introduction to Raleigh's exciting art, music and dining scene.
Where: Downtown Raleigh
When: 5:00 pm - ??? (times vary by venue)
Artists to visit:
* metamorphosis metals will have an open studio in The Carter Building, 14 Glenwood Avenue, Studio #24 from 6:00 pm - 9:00 pm.
* Orange Cat Art is one of the featured artists in the Visual Art Exchange's Launch Gallery for January & February! VAE is located at 309 W. Martin Street and open tonight from 6:00 pm - 9:00 pm.
More info:
http://www.godowntownraleigh.com/firstfriday/index.htm

Saturday, January 4
Wake Forest Farmers Market
Fresh-off-the-farm produce; pasture-raised beef, poultry, and pork; free-range eggs; honey, jams, and preserves; delicious baked goods; knits & fiber, and more!
Where: 110 S. White Street, Wake Forest, NC 27587
More info:
http://www.wakeforestfarmersmarket.org/
Shop Local Online! Team Member Etsy Shop Sales!
-
Isabel's Rose
- Annual Birthday Sale! 45% off for 24 hours only! Sale starts at Noon, Tuesday, January 7!
-
AveryMac&Roo
- 15% off any purchase all month long! Discount Code AMR15 - Coupon expires 1/31/14.
-
Dainty Jewelry by Tonya
- 25% off more than 40 items in special SALE shop section!
-
Katiebug Bows
- Free shipping on orders of $20 with coupon code SHIPFREE
-
Shelia Kempf ArtWorks
- 50% off on select prints!
We hope you'll visit our NC Triangle Etsy Team members and say hello.
Check in each week for more handmade arts & crafts festivities throughout the fall!
(Members, if you have an event or sale coming up, send your information to Orange Cat Art to be included on the calendar!

)/span>