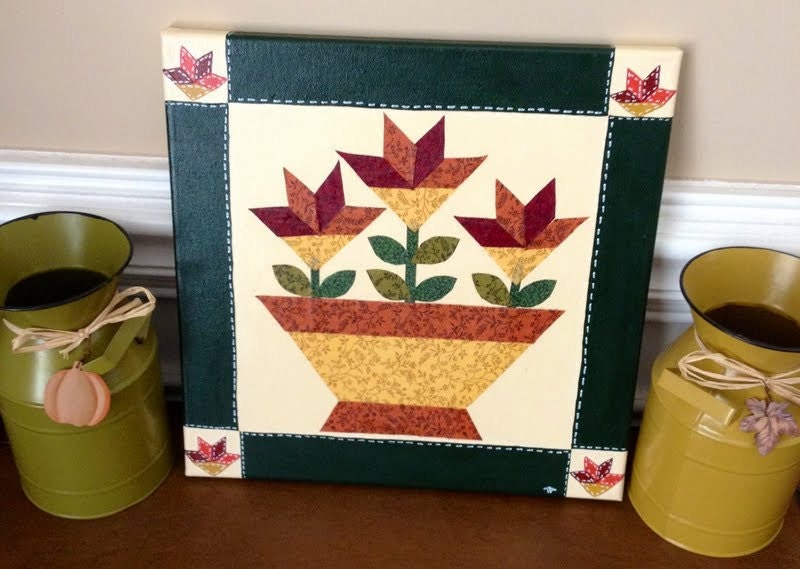 Quilt Art: Flower Basket
by Alvelo Quilt Art
Hope everyone is enjoying the beautiful early fall weather this week! It makes it a perfect time to get out & enjoy some of the many arts & craft events we have in store for you! There are lots of great events this weekend, and don't forget the midweek farmer's markets next week, too. See you there!
Thursday, September 13
Art Faire Reception - Clayton
The opening of the 2012 Art Faire exhibition and a meet-the-artists reception for the 63 artists who entered the exhibit.
Where: The Clayton Center, 111 E. 2nd Street, 27520
When: 6:00 - 7:30 pm
Artists to meet: Alvelo Quilt Art, Bill Swindaman Photography
More info:
http://claytonvisualartsnc.org/
Friday, September 14
Artists & Crafters Market - Fuquay-Varina
Part of the 2nd Fridays "Art after Dark" series in Downtown Fuquay-Varina, meet & shop with local artists, music, kids activities, and more!
Where:
600 Broad St. Fuquay-Varina, NC (next to Aviator Tap House)
When:
5:00 - 8:00 pm
Artists to visit:
Bordeaux Lane Studio
More info:
http://www.fvartscouncil.org/aadthismonth.html
Saturday, September 15
Harvest & Music Festival - Clayton
Join us at the Premier event here in Clayton. We will have five days of music, food, crafts and entertainment of all ages!
Vendor fair with more than 150 booths takes place on Saturday, but check website for full schedule of events.
Where: Downtown Clayton, NC

27520
When: 9:00 am - 5:00 pm
Artist to visit:
Alvelo Quilt Art
More info:
http://www.claytonchamber.com/
Saturday & Sunday, September 15 & 16
Centerfest - Durham
130 juried visual artists representing 18 states (including 82 North Carolina artists; 18 Durham artists) will showcase and sell their original, handcrafted work in Clay, Drawing, Fibers, Glass, Painting, Photography, Printmaking, Wood, Jewelry, Mixed Media, and Sculpture. It is truly one-stop shopping for art lovers!
Where: City Center, Downtown Durham
When: Saturday - 10:00 am - 6:00 pm; Sunday - 11:00 am - 5:00 pm
Artists to visit: Gilded Lily Glass, metamorphosis metals, Flower Thyme
More info:
http://centerfest.durhamarts.org/
Pagan Pride Days Festival - Raleigh
This autumn celebration offers two days of both entertainment and education through social, commercial and spiritual activities. All are welcome to join or observe rituals, attend workshops, meet local groups, and much more, all in a festival environment full of arts & crafts vendors, music, and fun. Admission each day is an item for the Food Bank of Central and Eastern NC.
Where: NC State Fairgrounds Gate 5, 974 Youth Center Dr, Raleigh, NC
When: both days 10:45 am - 6:30 pm
Artists to visit:
Linda Searcy Jewelry
, Designing Impressions Crochet
, Curious Goods Curios
More info:
http://cncpaganpride.org/
bazaarSPARK - Raleigh
One of the events in conjunction with SPARKcon, around 50 local artists & designers selling their wares. bazaarSPARK answers the question - what if the mall were cool?
Where: City Plaza, 400 Fayetteville St.
When: Saturday - 11:00 am - 6:00 pm; Sunday - Noon - 4:00 pm
Artists to visit: metamorphosis metals, Melsie Glass, Music Teachah Designs, la te da adornments, Li Sashay, Bordeaux Lane Studio, Ara Leigh Studios
More info:
http://www.sparkcon.com/sparks/bazaarspark/
Tuesday, September 18
Downtown Cary Farmers Market
Locally hand made arts & crafts join traditional produce, baked good, poultry & eggs, bath & body products, plants, and more!


Where:

301 S. Academy Street, at the corner of Academy and Park


When:

3:00 pm - 6:00 pm
Artists to visit: Bordeaux Lane Studio
More info: http://caryfarmersmarket.com/
Wednesday, September 19
Wake Forest Farmers Market
Fresh-off-the-farm produce; pasture-raised beef, poultry, and pork; free-range eggs; honey, jams, and preserves; delicious baked goods; natural bath & body products, and more!


Where:

110 S. White Street, Wake Forest, NC 27587




When:

4:00 pm - 7:00 pm
Artist to visit: Poppy and Purl, A Stitch Niche
More info: http://www.wakeforestfarmersmarket.org/
Shop Local Online! Team Member Sales!
-
Heebie Jeebie Designs - SUMMER SALE! 25% off all jewelry! Enter coupon code: BEACHBUM
We hope you'll visit our NC Triangle Etsy Team members and say hello.
Check in each week for more handmade arts & crafts festivities throughout the fall!
(Members, if you have an event or sale coming up next weekend, send your information to Orange Cat Art to get onto next week's calendar!
)