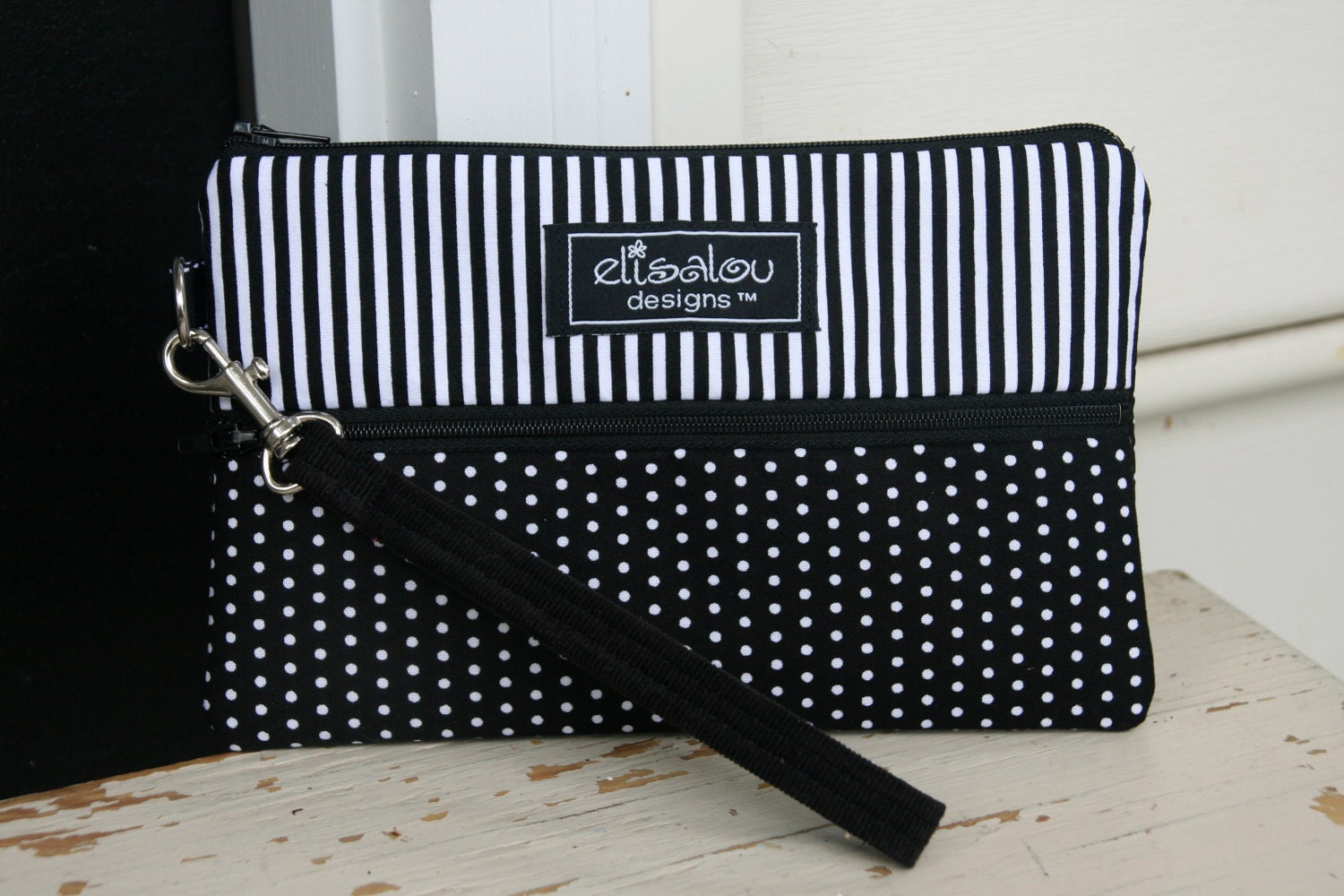 Padded Wristlet / Mini-Purse - Stripes & Polka Dots
by Elisalou Designs
Festivities all around the Triangle this weekend - Durham, Chapel Hill, Raleigh, Wake Forest, Apex, Hillsborough... Where ever you may be, our talented artists have an event near you! So many great opportunities to shop handmade & get out in your communit

y!

See you there!
Friday - Saturday, November 16 -17
Durham Art Walk Holiday Market
A fine arts and crafts event that will help Durham kick off the season in style! It's a weekend full of art and holiday spirit including: dazzling examples of local artistic talent, world-class restaurants, great shopping, innovative new businesses and fascinating historic sites.
Where:
A

ll team members will be at Site 1: Durham A

rts Council, 120 Morris St. Durham, NC 27701
. Event continues at sites around Downtown Durham (
map
)
.
When:
Friday 5:00 pm - 9:00 pm; Saturday10:00 am - 4:00 pm
Artists to visit:
Ara Leigh Studios,
Elisa

l

ou Designs, Cockamamie Jewelry, metamorphosis metals,
Orange Cat Art, Split Infinity Jewelry
More info:
http://durhamartwalk.com/
Christmas Bazaar - Chapel Hill
Shop for hand-made items and alternative gifts! Arts and crafts, jewelry, homemade baked goods, Christmas gifts and decorations, holiday floral arrangements, and more. Dinner and live music will be served up on Friday, and a catered luncheon will be held on Saturday.
Where:
Christ United Methodist Church, 800 Market Street, Chapel Hill, NC 27516
When:
Friday 5:00 pm - 8:00 pm; Saturday 11:00 am - 3:00 pm
Artist to visit:
Bordeaux Lane Studio
More info:
http://www.christmethodist.org/article/christmas-bazaar-for-missions/
Candy Cane Corner - Wake Forest
A variety of arts, crafts & vendors!
Where:
St. Catherine of Siena Catholic School, 520 West Holding Ave, Wake Forest, NC 27587
When:
Friday 5:00 pm - 8:00 pm; Saturday 10:00 am - 2:00 pm
Artist to visit:
Warlop's Woolies
More info:
http://www.facebook.com/SaintCatherinesCandyCaneCorner
Saturday, November 17
4th Annual Holiday Arts & Crafts Bazaar - Hillsborough
Local artisans with a wide variety of arts & crafts! Pick up a perfect, one-of-a-kind gift for family and friends on your holiday shopping list.
Where:
402 N. Nash Street, Hillsborough, NC
When:
9:00 am - 2:00 pm
Artist to visit:
Linda Searcy Jewelry
More info:
http://www.ourhillsborough.com/html/main/announce_display/newsID/76955/index.html
Holiday Bazaar - Raleigh
More than 40 vendors, featuring kitchenware, artwork, home decor, jewelry, quilts, handbags, and so much more. Plus, a Bake Sale, and soup & sandwiches available for purchase.
Where:
Highland UMC, 1901 Ridge Road, Raleigh, NC 27607
When:
9:00 am - 3:00 pm
Artist to visit:
Beyond Words
More info:
http://www.highlandumc.org/article309560c4970138.htm
Sunday, November 18
Christmas Craft & Vendor Fair - Apex
Come and do your Christmas shopping early. Crafters include fabric bowls & dolls, photography, personalized kids' books, pottery, handmade fabric bags, handmade jewelry,
original art, homema

de food items

and more! Hosted by
Girl Scout Troop 1761.
Where: Apex Chamber of Commerce, 220 N. Salem St, Apex, NC
When:
1:00 pm - 5:00 pm
Artists to visit:
Heebie Jeebie Designs
More info:
http://www.julietteslist.org/juliettes-list-classifieds/show-ad/?id=448
dTown Market - Durham
Art, fashion, music
& food to relax your Sunday at this bi-week
ly indie market!
Where:
Motorco Music Hall, 723 Rigsbee Ave. Durham, NC
When: Noon - 5:00 pm
Artist to visit:
Tracey Gurley Bath

& Body
More info:
http://dtownmarket.com/
We hope you'll visit our NC Triangle Etsy Team members and say hello.
Check in each week for more handmade arts & crafts festivities throughout the holiday shopping season!
(Members, if you have an event or sale coming up, send your information to Orange Cat Art to get onto the calendar!
)