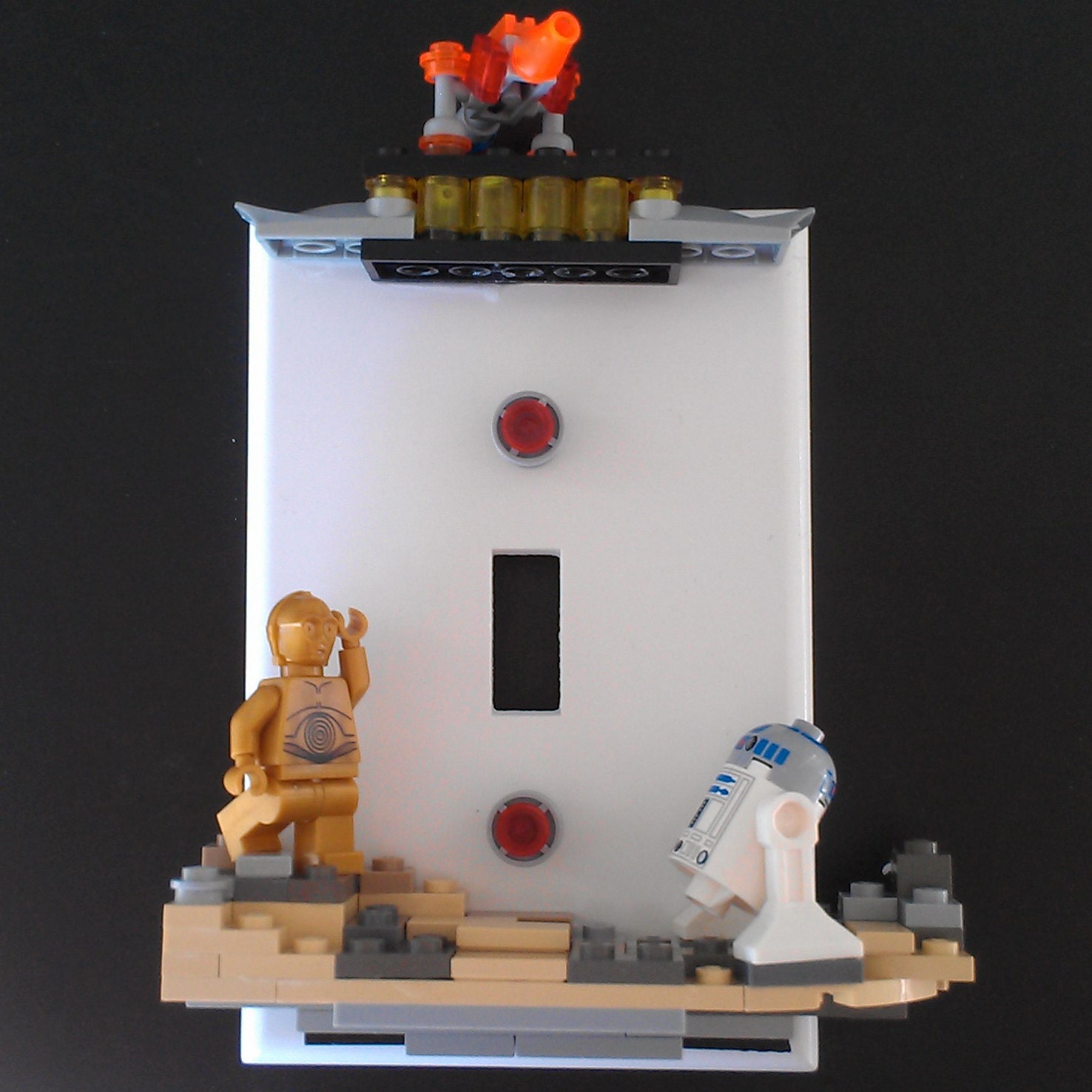 Star Wars LEGO C3PO and R2D2 Switchplate
by CWV Designs
Ah, November - time to start thinking about the holidays! Each week, we'll bring you a list of terrific local events where our artists & crafters will be offering their creations. We hope you'll join us in shopping local & handmade this year! See you there!
Friday, November 2
First Friday - Raleigh
Join us for a fun-filled introduction to Raleigh's exciting art, music and dining scene with local art galleries, art studios, museums, retail, restaurants and alternative art venues!
Where:
Downtown Raleigh
When:
6:00 pm - ??? (times vary by venue)
Artists to visit:
*
metamorphosis metals
has an open house at her studio in The Carter Building from 6:00 pm - 10:00 pm.
More info:
http://www.godowntownraleigh.com/first-friday-raleigh
Friday - Sunday, November 2-4
Autumn Artfest - Raleigh
Artist reception Friday night, great art & handmade crafts all weekend long! Woodworking, pottery, jewelry, scarves, painting, knitted & quilted items, candles, stained glass, textiles and more!
Where:
Unitarian Universalist Fellowship of Raleigh, 3313 Wade Avenue, Raleigh, NC 27607
When:
Friday - 6 pm - 9 pm; Saturday - 10 am - 5 pm; Sunday - 10 am - 2 pm
Artist to visit:
Bordeaux Lane Studio
More info:
http://uufr.org/special-events/230-art-fest
Saturday, November 3
The Giving Market - Apex
Arts & crafts vendors, plus opportunities to learn about and support local and global mission projects.
Where: Apex Baptist Church, Fellowship Hall, 110 South Salem Street, Apex, NC 27502
When: 9:00 am - 3:00 pm
Artist to visit: Heebie Jeebie Designs
More info:
http://www.apexbaptist.org/#/ministries/women
Winter Wonders Holiday Craft & Vendor Fair - Apex
A day of fun, food and shopping! Come out and support local artists offerings such as: mixed media mosaics, pottery, handmade quilts, handbags and backpacks, toys and mobiles, knit and crocheted works, and more!
Where:
Middle Creek High School, 123 Middle Creek Park Avenue
Apex, NC 27539
When: 9:00 am - 3:00 pm
Artist to visit:
Jus Shar Designs
More info:
http://mchs-ptsa.com/2012/10/craftfair/
Sunday, November 4
Holiday Crafts Fair - Raleigh
Looking for that perfect holiday gift? Come browse our selection of unique, high-quality handcrafted items! Pottery, glass & wood art, photography, jewelry, purses, knitwear, baby items, clothes & accessories, holiday & party items, all natural bath & body products, and much more!
Where: 7400 Falls of Neuse Road (across from Ravenscroft School), Raleigh, NC 27615
When:
Noon - 5:00 pm
Artists to visit: Marla Faye Creations, Karen's Soaps, Lilac's Loveables, Orange Cat Art, Sew Shellz, CWV Designs
More info:
http://www.facebook.com/events/442078779163637/
Wednesday, November 7
Wake Forest Farmers Market
Fresh-off-the-farm produce; pasture-raised beef, poultry, and pork; free-range eggs; honey, jams, and preserves; delicious baked goods; knits & fiber, and more!


Where:

150 S. White Street, Wake Forest, NC 27587




When:

4:00 pm - 7:00 pm
Artists to visit: Poppy and Purl, A Stitch Niche
More info: http://www.wakeforestfarmersmarket.org/
We hope you'll visit our NC Triangle Etsy Team members and say hello.
Check in each week for more handmade arts & crafts festivities throughout the holiday shopping season!
(Members, if you have an event or sale coming up, send your information to Orange Cat Art to get onto the calendar!
)