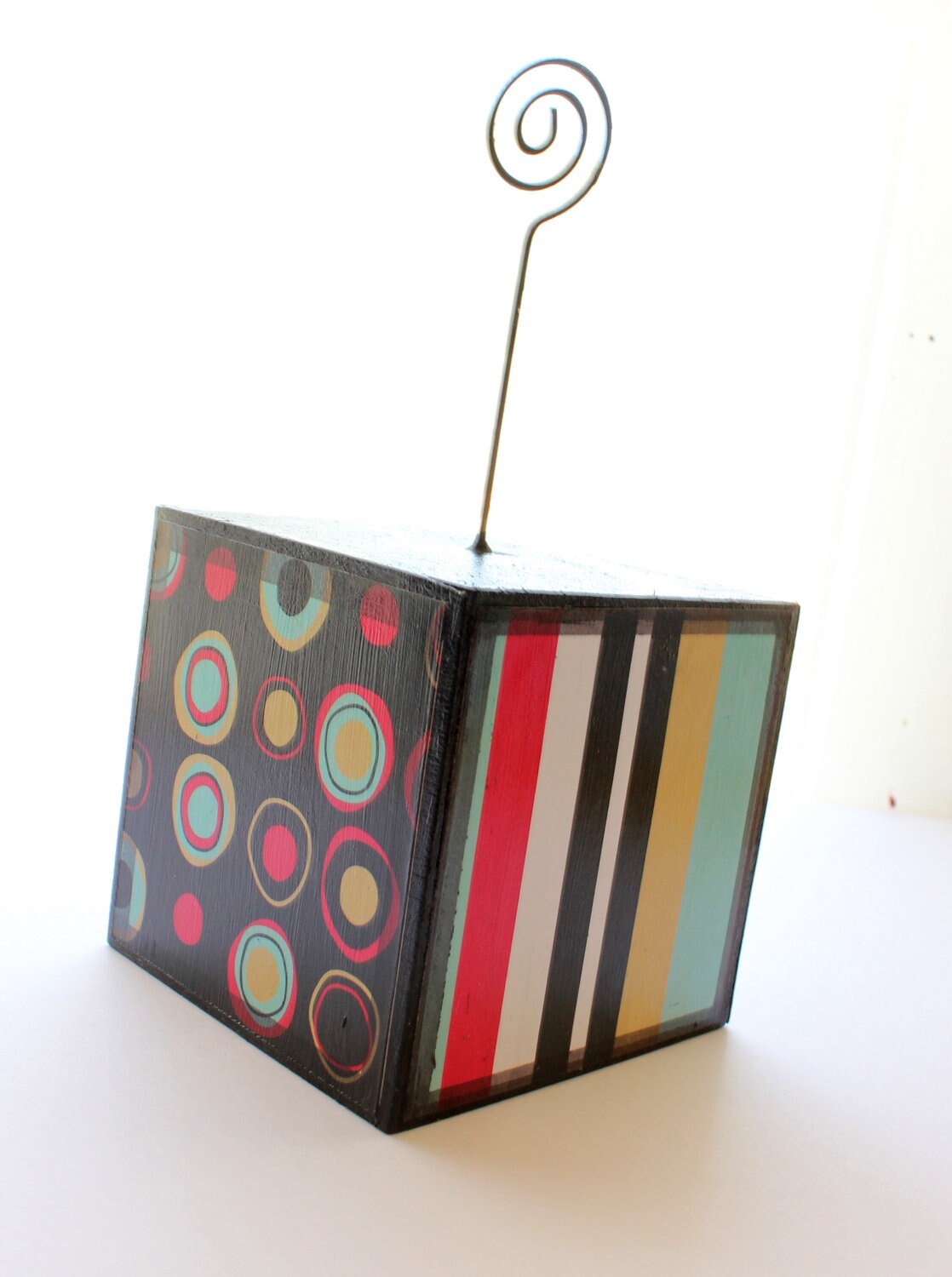 Painted Wooden Cube - Photo/Recipe Holder
by Liz Moran
The beautiful weather continues this weekend, making easy to get out & enjoy all the great handmade shopping oppo

rtunities our area has to offer!

Ke

ep it local & handmade, Triangle!
Ongoing until Dece

mber 22
The

Holly Daze Shoppe - Car

y
A "pop-up" style holiday market, featuring 15 different local artists. Hosted by the Town of Cary, which also sponsors the Lazy Daze Festival in August, so you know it will be a great collection of talented vendors!
Where:
120 East Chatham Street, Cary, NC
When:
Monday-Friday - 3:00 pm - 8:00 pm; Saturdays - 10:00 am - 4:00 pm
Artist to visit Friday - Saturday, Dec. 7

-

8:
Linda Searcy Jewelry
Artist to visit Monday - Saturday, Dec. 10 - 15:
Orange Cat Art
More info: http://www.townofcary.org/Departments/Parks__Recreation___Cultural_Resources/events/holiday/heartofholidays.htm
Saturday, December 8
Holiday Arts & Craft Party by Acorn to

Oak Handmade

- Raleigh
Our sister Etsy team Acorn to Oak Handmade is putting on a show at the Visual Art Exchange in Raleigh. We have many team members in common, so this is a great opportunity to support our community & do some shopping!
Where:
VAE, 309 W. Martin Street, Raleigh, NC 27601
When:
10:00 am - 6:00 pm
Artists to visit:
Li Sashay
,
Stick Staff Cane
,
Poppy and Purl
,
Melsie Glass
,
This Little Pigment
,
Liz Moran
More info:
https://www.facebook.com/events/450967001629491/
Waverly Place Holiday Market - Cary
The first in a series of Holiday Market days, featuring local vendors with hand crafted items. Enjoy an extraordinary vocal performance by the Kings Tavern Madrigal, and crafts for the children provided by the Cary Creative Center, Inc. - "C3".
Where: 323 New Waverly Pl, Cary, NC 27518 (Intersection of Tryon & Kildaire Farm Roads)
When: 11:00 am - 2:00 pm
Artist to visit: Bordeaux Lane Studio, Heebie Jeebie Designs
More info: http://www.facebook.com/WaverlyPlaceNC
Wednesday, December 12
14th Annual Holiday Bazaar - Chapel Hill
More than 60 Vendors from all over NC will be selling art, pottery, jewelry, toys, tupperware, books, holiday decorations, skin care products, and other unique gifts. The proceeds go to benefit the children of UNC Hospitals.
Where:
UNC C

hildrens Hospital Lobby,
101 Manning Drive, Chapel Hill, NC 27514
W
hen: 10:00

am - 5:00 pm
Artist to vis
it:
Bordeaux Lane Studio
More info:
http://news.unchealthcare.org/empnews/2012/nov14/bazaar
Shop Local Online! Te

am Member

Etsy Shop Sales!
-
Precious Lambs Gifts
- Get 10% Off your Entire Order - use code PLG10 OR FREE Domestic Shipping - use code HOLIDAYSHIP
-
Shams & Coverups
- CHRISTMAS2012 to get 15% OFF! select items
-
JD Footloose
- Free shipping on select items in the FREE SHIPPING shop section
-
Celia Currin Art
- 40% off sale! Use code: 40OFF at checkout!
We hope you'll visit our NC Triangle Etsy Team members and say hello.
Check in each week for more handmade arts & crafts festivities throughout the holiday shopping season!
(Members, if you have an event or sale coming up, send your information to Orange Cat Art to get onto the calendar!
)