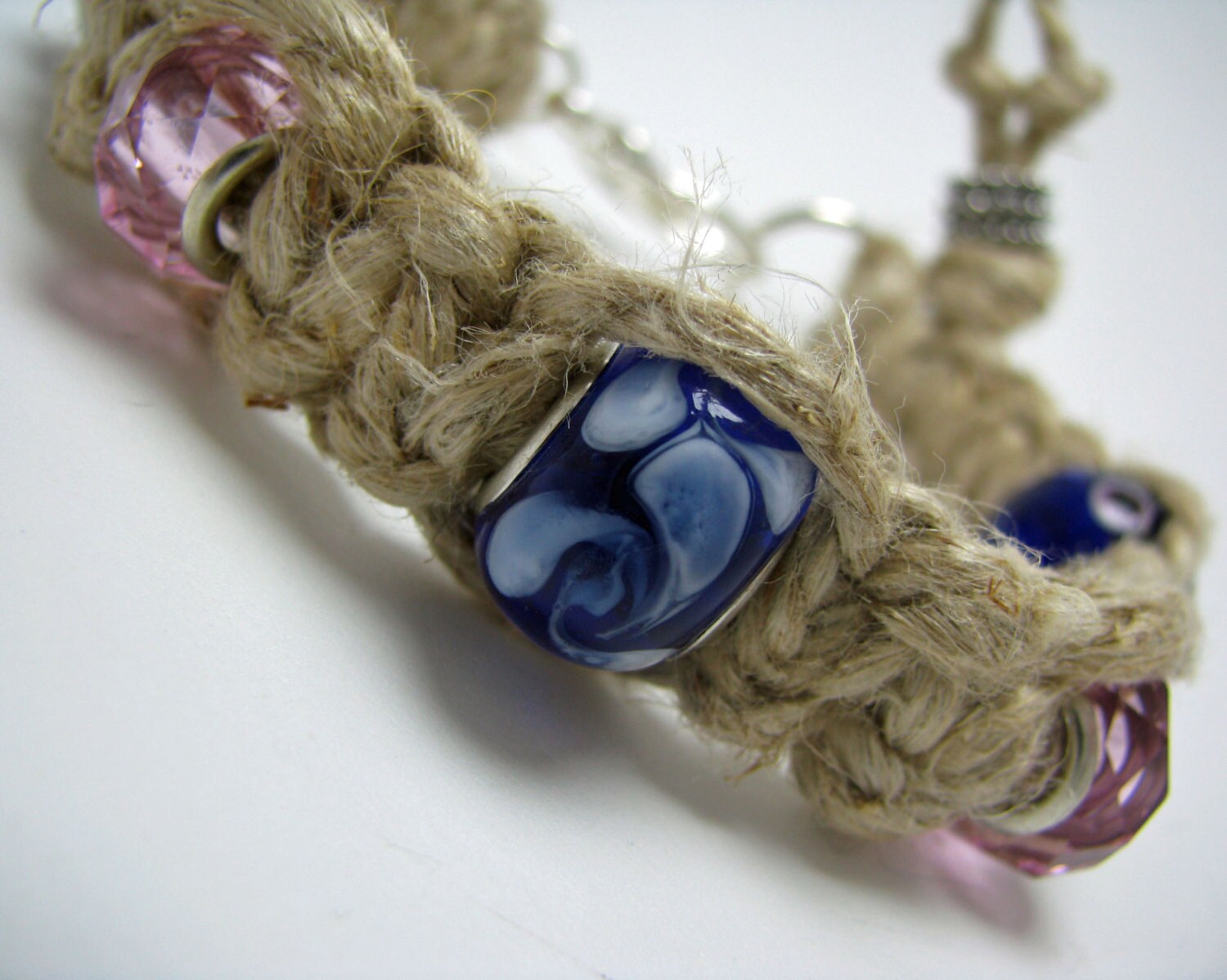 Thick Hemp Macrame Bracelet by Melanie R Jewelry
Welcome to summer, Triangle friends! We have several events for you this weekend - starting tonight in Raleigh, then continuing around the Triangle this weekend in Fuquay-Varina, Clayton, Durham and Wake Forest. Thank

you

for shopping local & handmade this summer!
Thursday, May 30
Oak City 7 - Raleigh
Raleigh's free summer concert series kicks off this week with performances by Orquesta GarDel, Old Quarter, Erin Nenni Band, and Peak City Blues! Get there early to enjoy local food trucks and the artisan gallery!
Where:
City Plaza, 500 Fayetteville Street, Raleigh, NC
When:
5:00 pm - 10:30 pm
Artist to visit:
Bordeaux Lane Studio
More info:
http://oakcity7.com/
Saturday, June 1
Wake Forest Farmers Market
Fresh-off-the-farm produce; pasture-raised beef, poultry, and pork; free-range eggs; honey, jams, and preserves; delicious baked goods; knits & fiber, and more!
Where:
110 S. White Street, Wake Forest, NC 27587
When:
8:00 am - Noon
Artists to visit:
A Stitch Niche
,
Poppy & Purl
,
Tracey Gurley Bath & Body
More info:
http://www.wakeforestfarmersmarket.org/
Celebration of the Arts - Fuquay-Varina
Part of the Celebrate Fuquay-Varina festival, the Celebration of the Arts boasts more than 90 arts and crafts vendors from all over the southeast region. You'll enjoy strolling in downtown and browsing among artists that offer everything from handmade crafts to one-of-a-kind museum art pieces.
Where:
Main Street, Fuquay-Varina, NC
When:
10:00 am - 4:00 pm
Artists to visit:
Designing Impressions Crochet
,
Melanie R Jewelry
,
Piecefully Home
More info:
http://www.celebratefv.com/saturday-events/celebration-of-the-arts.html
Arts in the Garden - Clayton
Join artists & crafters at the Mosaic Community Garden, in conjunction with Clayton's Millfest!
Where:
439 East Main Street, Clayton NC
When:
10:00 am - 4:00 pm
Artist to visit:
Lousje
More info:
https://www.facebook.com/MosaicCommunityGarden
Saturday & Sunday, June 1-2
Greek Festival - Durham
Experience the fabulous flavors, sights and sounds of Greece! Enjoy the live music & dancing, sample Greek culinary delights, and browse the shops featuring gifts, handmade jewelry and crafts, souvenirs, religious items and watercolor scenes of Greece. Free admission!
Where:
Saint Barbara Greek Orthodox Church, 8306 Highway 751, (one-half mile south of I-40 Exit 274 (near Southpoint Mall)), Durham, NC
When:
11:00 am - 9:00 pm
Artist to visit:
Bordeaux Lane Studio
More info:
http://www.stbarbaranc-greekfestival.org/Pages/default.aspx
Shop Local Online! Te

am Member

Etsy Shop Sales!
- Cockamamie Jewelry & From Lillian - Memorial Day Sale! Use coupon co

de REMEMBER for 25% off through midnight Thursday, May 30!
- Celia Currin Art - 40% off with code MEGASALE
- The Green Elephant Co. - 10% off with

coupon code
WARMERWEATHER
- Prickly Paw Crafts - Use code "Ribbon10" for 10% off Ribbons
- The Gift Garden - 20% off your purchase with coupon

code "SpringCleaning"
- Orange Cat Art - 10% off our watercolor blanks & scraps! Great for ACEOs, tags, handmade paper & more! No coupon code needed.
We hope you'll visit our NC Triangle Etsy Team members and say hello.
Check in each week for more handmade arts & crafts festivities throughout the

summer

!
(Members, if you have an event or sale coming up, send your information to Orange Cat Art to get onto the calendar!
)