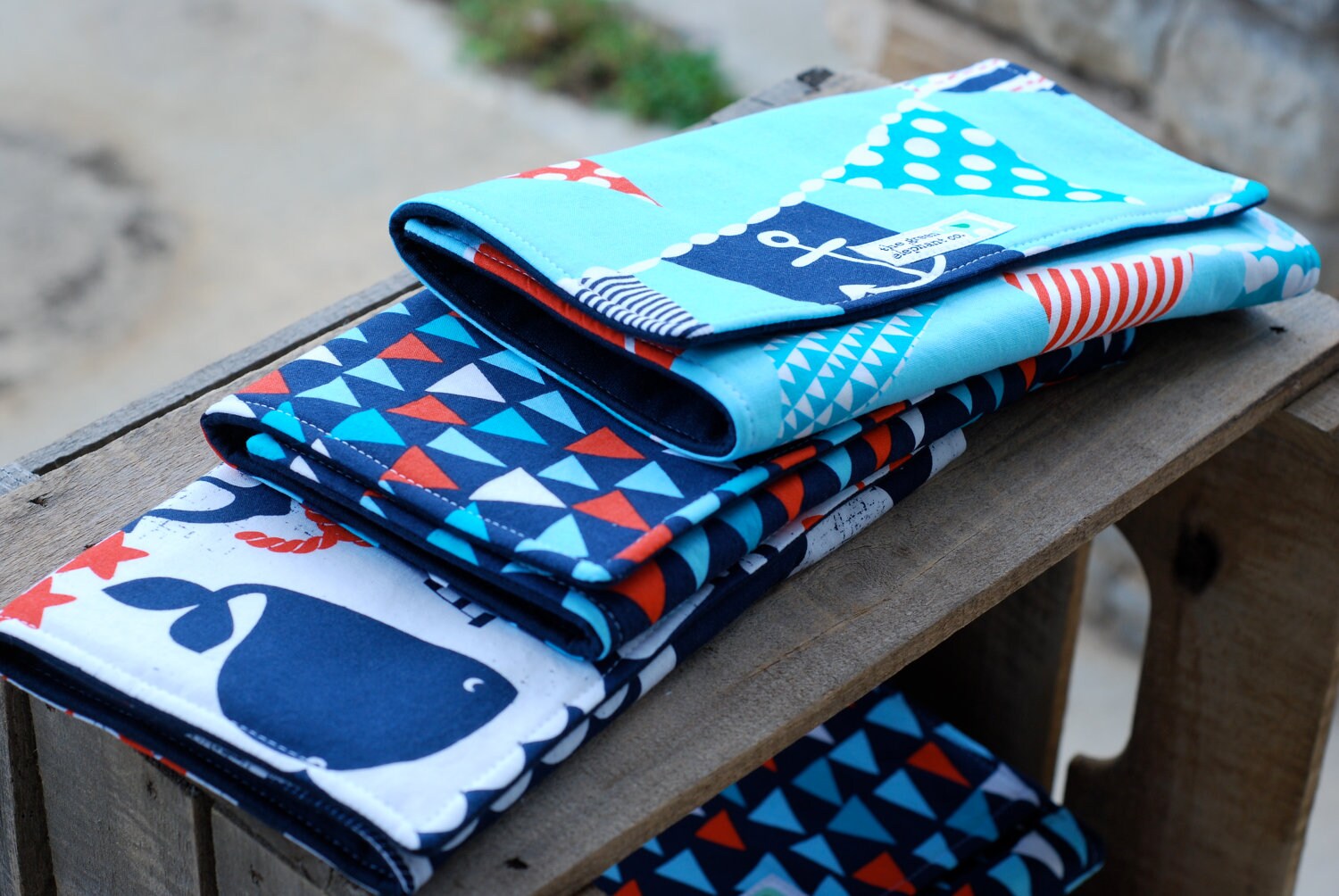 Ahoy Matey - 3 Burp Cloth Set
by the green elephant co.
** Update: Since Tropical Storm Andrea is fast approaching our area, please check the "more info" links for events, or the team's FB page, for weather-related schedule changes!**
This weekend is the First Friday in June! Which means fun events Friday night in downtown Raleigh, plus

activities around the area all weekend long - and Monday, too!
Thank

you

for supporting your local artists!
Friday, June 7
First Friday - Raleigh
Join us for a fun-filled introduction to Raleigh's exciting art, music and dining scene. Enjoy a free self-guided tour of local art galleries, art studios, museums, retail, restaurants and alternative art venues!
Where:
Downtown Raleigh
When:
5:oo pm - ??? (times vary by venue)
Artists to visit:
*
Cockamamie Jewelry
will be the featured artist at
Nora & Nicky's
new location at 19 West Harget Street, 5:30 pm - 9:00 pm. (If you purchase any local artists' jewelry, you get 10% off of your CLOTHING purchase!)
*
metamorphosis metals
will have an open studio in The Carter Building, 14 Glenwood Avenue, Studio #24 from 6:00 pm - 9:00 pm.
* (This month's
Morning Times Market
has been cancelled due to the weather. They'll be back in July!)
More info:
http://www.godowntownraleigh.com/firstfriday/index.htm
Saturday, June 8
Waverly Place Farmer's Market - Cary
Featuring NC local fresh from the farm fruits, vegetables, and more, plus the Waverly Artists Group!
Where:
In the parking lot off of the Waverly Promenade on the lower level, at the corner of Tryon and Kildaire Farm Roads, Cary, NC
When:
9:00 am - Noon
Artist to visit:
Bordeaux Lane Studio
More info:
http://waverlycary.com/ai1ec_event/waverly-farmers-market/?instance_id=452
NC Fresh Catch - Raleigh
Join us for an afternoon in the park to support NC Catch fisheries, local farms and breweries and help raise money for Nourish International and the NC Coastal Federation. So bring a blanket and a chair and big appetites for NC Fresh Catch: Fresh Seafood, Fresh Music, Fresh Beer, Fresh Art. This is an all ages, kid friendly show.
Where:
Moore Square, 200 S. Blount Street, Raleigh, NC 27601
When:
1:00 pm - 7:00 pm
Artist to visit:
Bordeaux Lane Studio
More info:
http://www.h2h2o.org/
Monday, June 10
Shop Mondays - Raleigh
Local artists gather for a special Monday open house at Lil Sis Studios, in the south Glenwood area.
Where:
Lil Sis Studios, 508 St. Mary's St. Raleigh, NC
When:
Noon - 8:00 pm
Artist to visit:
Bordeaux Lane Studio
More info:
http://www.annmarieprintart.com/
Shop Local Online! Te

am Member

Etsy Shop Sales!
- Celia Currin Art - 40% off with code MEGASALE
- The Green Elephant Co. - 10% off with coupon code
WARMERWEATHER
-
Prickly Paw Crafts
- Use code "Ribbon10" for 10% off Ribbons
-
The Gift Garden
- 20% off your purchase with coupon code "SpringCleaning"
-
Orange Cat Art
- 10% off our watercolor blanks & scraps! Great for ACEOs, tags, handmade paper & more! No coupon code needed.
We hope you'll visit our NC Triangle Etsy Team members and say hello.
Check in each week for more handmade arts & crafts festivities throughout the

summer

!
(Members, if you have an event or sale coming up, send your information to Orange Cat Art to get onto the calendar!
)