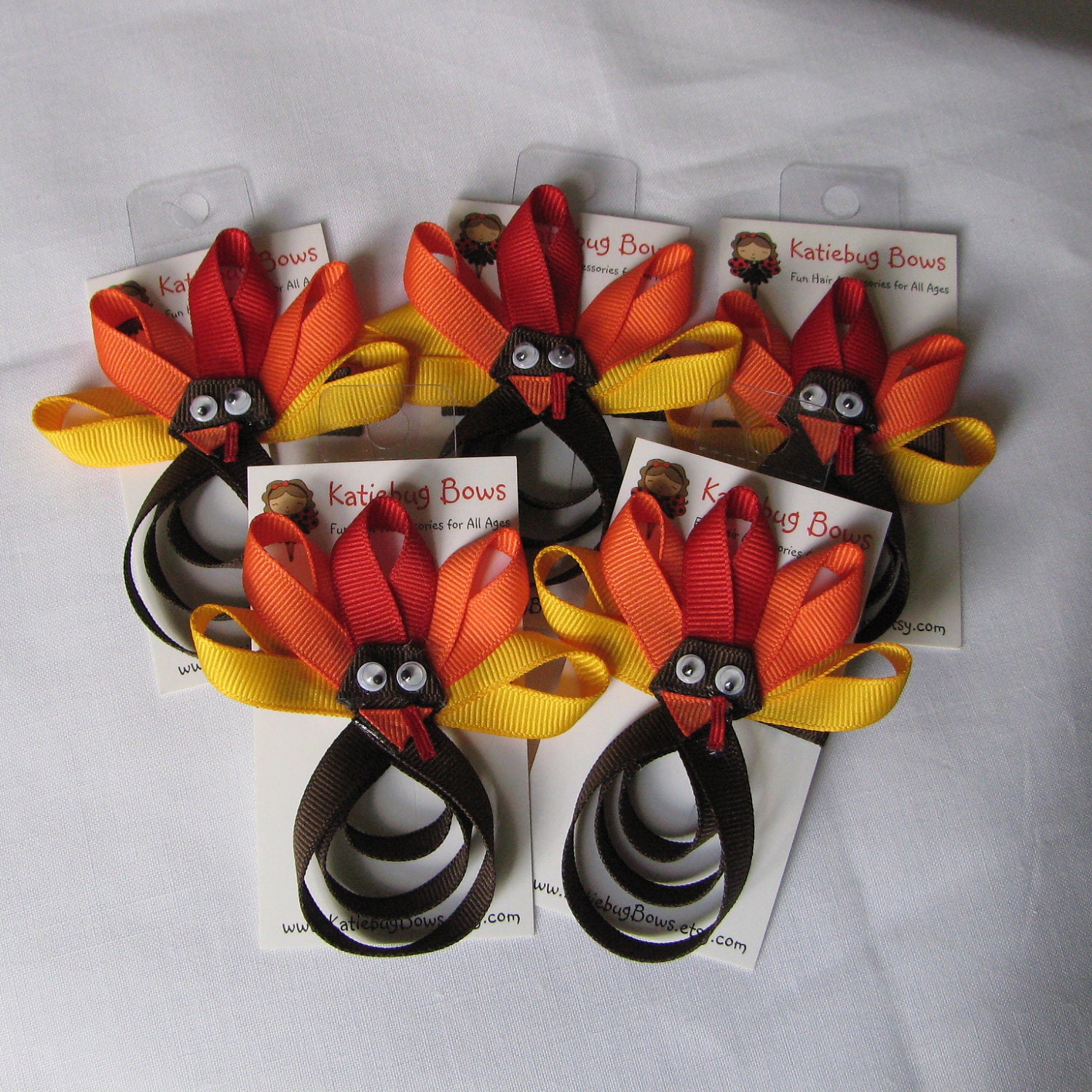 Turkey Hair Bow by Katiebug Bows
Have you taken the
Handmade Pledge
for your holiday shopping this year? Whether you make it 100% and official, or just for the folks who didn't ask for the latest video game, we want to make it easy for you to shop handmade & local this year! Every week we'll bring you a list of events featuring our NC Triangle Team artists & crafters from all around the area. You're sure to find an event near you! See you there!
Thursday & Friday, November 7-8
Vendor Fair - Apex
Salem Baptist's Weekday Preschool's annual Vendor Fair features dozens of popular vendors set up in the Fellowship Hall. Additionally, new this year is a Kids' Sale held in the Multi-Purpose Room, where used toys, kid/baby equipment, and clothes will be available for sale.
Where:
Salem Baptist Church, 1821 North Salem Street, Apex, North Carolina 27523
More info:
http://www.salem-bc.org/upcoming-events
Friday, November 8
UNC BAR Cultural Extravaganza - Chapel Hill
Let yourself be transported on a journey where the old school meets new school. Be captivated by the awe-inspiring performances of BSM subgroups and NPHC fraternities and sororities. It wouldn't be an extravaganza without a variety of vendors to complete your experience. Don't miss this event!
Where:
Friday Center, 100 Friday Center Dr, Chapel Hill, NC 27599
When:
1:00 pm - 6:00 pm
Artist to visit:
Cockamamie Jewelry
More info:
https://www.facebook.com/events/608835052505913/
Saturday, November 9
Wake Forest Farmers Market
Fresh-off-the-farm produce; pasture-raised beef, poultry, and pork; free-range eggs; honey, jams, and preserves; delicious baked goods; knits & fiber, and more!
Where: 110 S. White Street, Wake Forest, NC 27587
More info:
http://www.wakeforestfarmersmarket.org/

4th Annual Lochmere Art & Craft Show - Cary
Come see some amazing art produced by your neighbors and friends of Lochmere! There will be pottery, painted rocks, stained glass, jewelry, basketery, limestone sculpture, photography, handmade children's clothes, tote bags, knitted and crochet items and much more!
Where: Lochmere Pavilion Shops, Intersection of Kildare Farm Road & Lochmere Drive, Cary, NC
More info:
http://www.lochmere.org/community/lochmere-news/238-4th-annual-lochmere-arts-crafts-show
The Handmade Market - Raleigh
Shop The Handmade Market in Raleigh, NC for hip, handcrafted goods from more than 50 of the best and brightest independent artists, designers, and crafters from North Carolina and beyond.
Where: Cobblestone Hall,
215 Wolfe Street, Suite 100, Raleigh, NC

(City Market/Moore Square)
When: 11:00 am - 5:00 pm (Early bird shopping from 10-11 for $5 at the door!)
Artists to visit:

metamorphosis metals

,

Flytrap, Whispering Willow Soap
More info:
http://www.thehandmademarket.com/
Saturday & Sunday, November 9 & 10
NC Comicon - Durham
A 2-day celebration of all things comics! Panel discussions, costume contest, Artist Alley, and much, much more!
Where: Durham Convention Center 301 W. Morgan St. Durham, NC
When: Saturday 10:00 am - 7:00; Sunday 10:00 am - 6:00 pm
Artist to visit:
Designing Impressions Crochet
More info:
https://www.facebook.com/NCComicon
Friday-Sunday, November 8-10
Fall Craft Fair - Raleigh
More than 100 local crafters will feature a range of gifts and unique decorating ideas, including wreaths, ornaments, quilted items, floral arrangements, stained glass, woodworking, pottery, jewelry, soaps, baskets, candles, handbags, birdhouses, ornamental garden accessories and more.
Where:
State Farmers Market, 1201 Agriculture St., Raleigh, NC 27603
When:
9:00 am - 5:00 pm each day
Artist to visit:
Bordeaux Lane Studio
(Sunday Only)
More info:
http://www.visitraleigh.com/includes/calendar-of-events/Fall-Craft-Fair/25333/
Shop Local Online! Team Member Etsy Shop Sales!
-
Katiebug Bows
- Free shipping on orders of $20 with coupon code SHIPFREE
- jdfootloose -
15% off your order with Coupon Code: MOMMA
-
Shelia Kempf ArtWorks
- BOGO (buy one, get one free) or 50% off on select prints!
We hope you'll visit our NC Triangle Etsy Team members and say hello.
Check in each week for more handmade arts & crafts festivities throughout the

fall

!
(Members, if you have an event or sale coming up, send your information to Orange Cat Art to be included on the calendar!
)