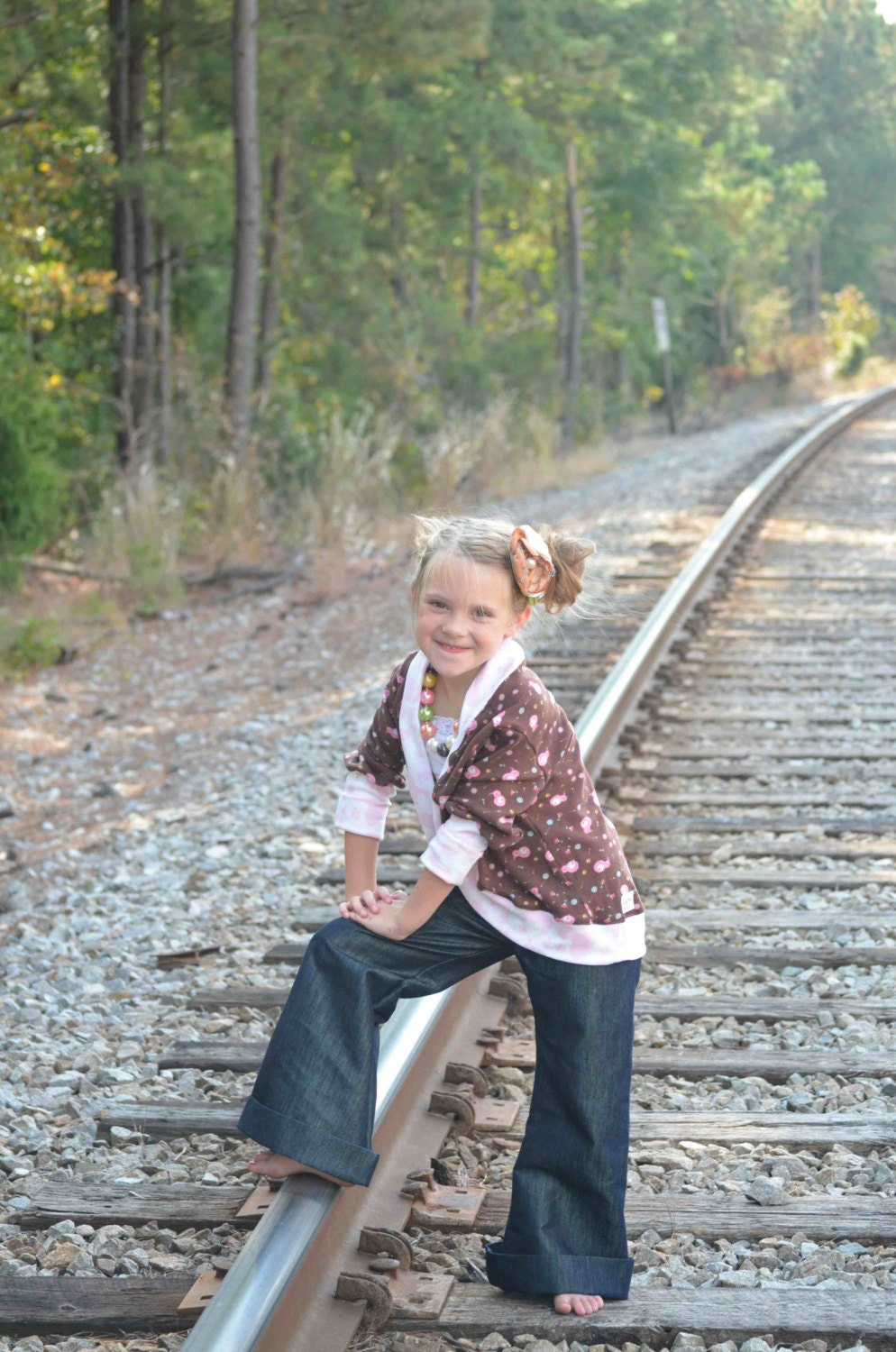 Little Lady's Denim Jeans
by AveryMac&Roo
Don't let this weekend's forecast keep you away! It's going to be a beautiful First Friday in Downtown Raleigh & Greensboro. Saturday we've got events all around the Raleigh area, and Sunday the Boylan Heights neighborhood will be fun of great artists to visit in yards and on porches. They are all great events and opportunities to shop handmade & local for the holidays!
Thursday - Saturday, December 5-7
Holiday Shoppe - Cary
A mix of about 100 vendors - artisans, hand-crafters, and retail ventures - who offer merchandise in various categories including jewelry, home décor, gift items, clothing, accessories and food.
Where:
Cary Academy,
1500 N Harrison Ave, Cary, NC 27513
When:
Friday: 10:00 am - 5 pm; 6:30 - 9 pm, Saturday: 10:00 am - 4 pm
Artists to visit:
Katiebug Bows
More info:
https://www.caryacademy.org/uploaded/Advancement/hs/HSinfoFlyer2013.pdf
Friday, December 6
Join us for a fun-filled introduction to Raleigh's exciting art, music and dining scene.
Be sure to check
online
for news about events that might have been cancelled to due the rainy forecast.
Where:
Downtown Raleigh
When: 5:00 pm - ??? (times vary by venue)
Artists to visit:
*
Bordeaux Lane Studio
will be at the
Morning Times Market
on Harget Street (between Fayetteville & Wilmington Streets.) Local art vendors, live performances & more! In front of the Morning Times Coffee Shop and the Raleigh Times Bar from 7:00 pm - 11:00 pm.
* metamorphosis metals will have an open studio in The Carter Building, 14 Glenwood Avenue, Studio #24 from 6:00 pm - 9:00 pm.
* Orange Cat Art has two pieces in the To: From: Holiday Exhibit at the Visual Art Exchange. It's a great place to find fine art gifts, as all pieces are priced under $300! Also, Melsie Glass has work for sale in the Launch Gallery!
More info:
http://www.godowntownraleigh.com/firstfriday/index.htm
First Friday Indie Market - Greensboro
Local artists and crafts people can come together for an Open Air Market of handmade and vintage goodness.
Where:
Corner of South Elm & MLK, Downtown Greensboro
When:
4:00 pm - 9:00 pm
Artist to visit:
Flowerthyme
More info:
http://firstfridayindiemarkets.blogspot.com/
Saturday, December 7
Wake Forest Farmers Holiday Market
A special craft market day, with special hours! Look for hand carved wood, dried flower wreaths, pottery, soap, custom made children's books, jewelry made of glass, clay, metal, encaustics and wood. Hand knitted or loom woven blankets, shawls, hats, booties and gloves. Felted ornaments, greeting cards, photography and more.
Where:
150 N. White Street,Wake Forest, NC, 27587
When:
9:00 am - 2:00 pm
Artists to visit:
A
Stitch Niche
,
Poppy & Purl
6th Annual St. Nicholas European Christmas Market - Cary
A European Christmas Market... Right in the heart of Cary! View beautiful Icon art, enjoy lunch, listen to The Little German Band, pick up your tree, gifts, and decorations and take home something from Baba's Kitchen!
Where: Sts Cyril & Methodius Byzantine Catholic Church, 2510 Piney Plains Rd, Cary, NC 27518
When: 10:00 am - 3:00 pm
Artist to visit:
Bordeaux Lane Studio
More info:
http://www.saintnicholasmarket.com/
Saturday & Sunday, December 7 & 8
Holly Days - Raleigh
165 vendors from across the southeast who sell their crafts, food items and commercial goods.
Where: Sanderson High School, 5500 Dixon Dr., Raleigh, NC, 27619
When: Saturday - 9:00 am - 5:00 pm; Sunday - 11:00 am - 4:00 pm
Artists to visit: Art Designs by Ellen, Piecefully Home, Prickly Paw
More info:
http://sandersonhs.org/event.php?id=620
Sunday, December 8
20th Annual Boylan Heights ArtWalk - Raleigh
Over 100 artists display and sell their work from porches, homes and studios. This is a wonderful opportunity to stroll through an historic neighborhood and shop for special gifts for the holidays.
Where: Boylan Heights (S. Boylan Avenue & surrounding area)
When: Noon - 5:00 pm
Artists to visit: Isabel's Rose, Orange Cat Art, The Wayward Stitch
More info:
http://artwalk.boylanheights.org/
Shop Local Online! Team Member Etsy Shop Sales!
-
AveryMac&Roo
- All pants are buy one get one 30% off- discount refunded through PP.
-
Whispering Willow Soaps
- Holiday Sale ~ 25% Off !!! Forget the Black Friday crowds and do your Christmas Shopping in your pajamas. Now through Sunday, December 8!
-
Marla Faye Creations
- 10% off in my shop with coupon code BIRTHDAY10 through Tuesday, December 10
-
Katiebug Bows
- Free shipping on orders of $20 with coupon code SHIPFREE
- jdfootloose -
Coupon Code: MOMMA Gets you 15% off your order
-
Shelia Kempf ArtWorks
- BOGO (buy one, get one free) or 50% off on select prints!
We hope you'll visit our NC Triangle Etsy Team members and say hello.
Check in each week for more handmade arts & crafts festivities throughout the

fall

!
(Members, if you have an event or sale coming up, send your information to Orange Cat Art to be included on the calendar!
)