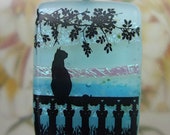 Gilded Lily Glass: Summer Reverie Dichroic Pendant
Friday, May 17, 2015
Artsplosure: The Raleigh Arts Festival
Celebrate Artsplosure's 36th year as Raleigh's premier, free arts festival! In addition to musical performances and student art exhibits, artwork by over 180 juried artists and craftspeople exhibiting in 10 categories will be available for purchase including photography, jewelry, woodwork, ceramics, and more!
When
:
Art Market Hours
Friday May 17: 11am-7pm
Saturday May 18: 10am-6pm
Sunday May 19: 10am-6pm
Where
: Fayetteville Street, Raleigh (
Festival Map
)
Artists to Visit
:
Zendustria
,
Gilded Lily Glass
Saturday, May 18, 2015
Waverly Place Market
The 4th Annual Waverly Place Farmers' Market will kick off on April 25th with 20+ local produce, meats, cheeses, fresh baked goods and handmade crafts. You will find the market vendors under the green and white Waverly tents. lined up from the entrance near Triangle Wine Co. through to the Promenade.
The Waverly Farmers' Market is part of LOCAL at Waverly Place, which is the backdrop ever Saturday to all that our amazing community has to offer. From local musicians, to charities, to community performance groups, you can always expect something fun and exciting during LOCAL!
When
: 9am-1pm
Where
: Waverly Place, Cary
Artists to Visit
:
Bordeaux Lane Studio
Charlotte VegFest 2015
Charlotte VegFest is a celebration of healthy, sustainable, and compassionate eating and explores the endless benefits of vegetarian living. This FREE event will feature a variety of vegan foods, local veg restaurants and food trucks, local vendors, live music, speakers, nutritional experts, vegan cooking demonstrations, free prizes, gift bags and more! EcoLicious and The Humane League are thrilled to be bringing an even bigger and better event this year to Plaza Midwood. We hope to see you there!
When: 2pm-7pm
Where: Plaza Midwood on Commonwealth Ave.
Artists to Visit; Whispering Willow Soap
Sunday, May 19, 2015
Pinehurst Strawberry Festival
Sunday morning, bask in the glory of a bygone era horse-drawn carriages from all over the east coast grace the streets in town. The parade of carriages features spectacular turn-of-the-century antique and reproduction carriages drawn by beautiful steeds. Following the parade enjoy the best of Moore County's bounty at the Strawberry Festival! Sample everything strawberry from ice cream to shortcake! Browse the craft booths, watch the elegant 4-in-Hand Horse Coaches, listen to the entertainers and enjoy a day in the park.
When: 9am-3pm
Where: Village of Pinehurst
Artists to Visit:
Bordeaux Lane Studio
We hope you'll visit our NC Triangle Etsy Team members and say hello.
Check in each week for more handmade arts & crafts festivities throughout the season!
Come visit us on our Facebook page, too, NC Triangle Team on Etsy.
(Members: if you have an event or sale coming up, please send your information to
zorarts to get onto the calendar.)