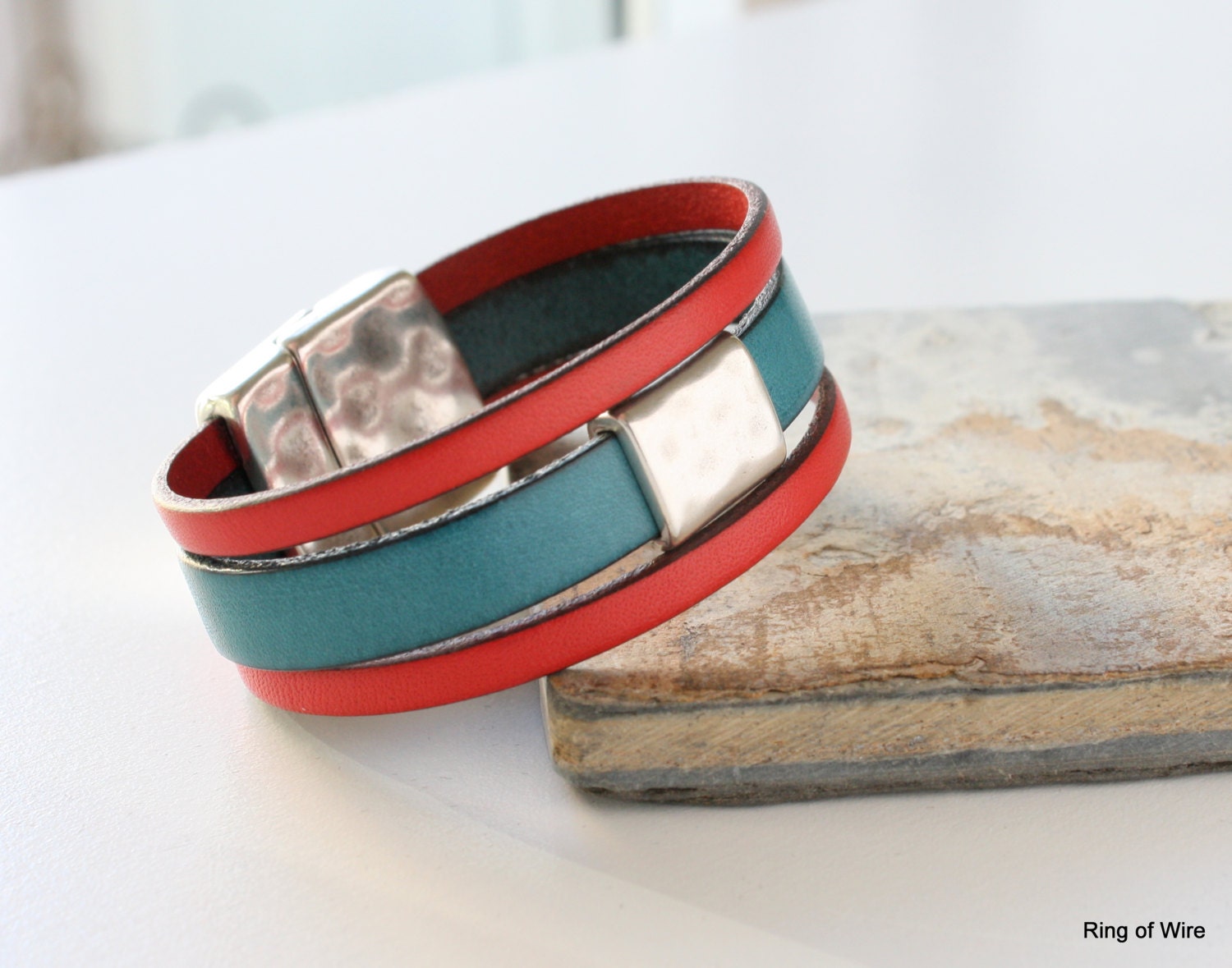 Turquoise Red Leather Bracelet with Silver Magnetic Clasp
by Ring of Wire
Happy Independence Day, Triangle!
We have a special 4th of July edition of First Friday in Raleigh, with The 'Works all day downtown. (Be sure to check the weather forecast & event websites before you head out - just to make sure Arthur has passed by first!) Or, if you're staying in - scroll down to see our team member shop sales!
Thank you for supporting your local handmade creators and independent retailers this summer! See you there!
Friday, July 4
The 'Works - RaleighAlong with our independence, Raleigh revelers will have lots to celebrate & enjoy! Food, beverages, Kids Zone, athletic stunt performances, music, art vendors and, of course, fireworks!
Where: Art Vendors will be located on Fayetteville Street, between Hargett & Martin Streets, Downtown Raleigh, NC
When: Noon - 11:00 pm
Artist to visit:
Bordeaux Lane Studio (
In front of The Bolt restaurant, the same location as last year!), AraLeigh Studios
More info:
http://www.raleighconvention.com/works/
First Friday - Raleigh
Join us for a fun-filled introduction to Raleigh's exciting art, music and dining scene.
Where: Downtown Raleigh
When: 5:00 pm - ??? (times vary by venue)
Artists to visit:
* metamorphosis metals will have an open studio in The Carter Building, 14 Glenwood Avenue, Studio #24 from 6:00 pm - 9:00 pm.
More info:
http://www.godowntownraleigh.com/firstfriday/index.htm
Saturday, July 5
Waverly Place Farmer's Market - Cary
Featuring NC local fresh from the farm fruits, vegetables, and more, plus the Waverly Artists Group!
Where: In the parking lot off of the Waverly Promenade on the lower level, at the corner of Tryon and Kildaire Farm Roads, Cary, NC
When: 9:00 am - Noon
Artist to visit:
Bordeaux Lane Studio
More info:
http://waverlyfm.com/
Shop Local Online! Team Member Etsy Shop Sales!
- Katiebug Bows - 4th of July Sale! Summer hair bows are $1.00 off, and hair ties are on sale, too! Sale lasts through 9 pm EDT, Sunday, July 6.
- Ring of Wire - Celebrating its 3-year Etsyversary!
Save 25% off your purchase by using coupon code ROW25 at check out
through Sunday (7/6) at Midnight.
- SewABC -
Take 20% off your total purchase when you enter "independence" in the coupon box!
Now through July 5th.
We hope you'll visit our NC Triangle Etsy Team members and say hello.
Check in each week for more handmade arts & crafts festivities throughout the

summer

!
(Members, if you have an event or sale coming up, please send your information to Orange Cat Art to get onto the calendar!
)